Tyler Frantz
Founder of Natural Pursuit Outdoors, Tyler Frantz is an avid sportsman and talented freelance writer from Lebanon County, PA. A teacher by trade, his passion for the outdoors is evident through the variety of work he regularly produces for multiple outdoor publications.
Late season is last chance for deer hunters
By Tyler Frantz
Where mere months ago a tangle of vegetation grew vibrantly green, carefree and lush, a bleak, desolate canvas of muted gray-brown now awaits. Winter tightens its grip, firearms season passes, and the game changes; a once thriving woodlot transforms into unforgiving territory, and a genuine story of survival unfolds.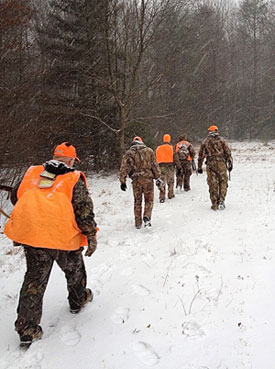 In most cases, field crops have long since been harvested, browse is beginning to thin, and a great deal of hard mast has either been gobbled up by a host of opportunistic feeders or meticulously stashed away by busy gray squirrels.
These aren't the same whitetails we hunted back in October. They've been pressured, educated and prevailed- already proving they have what it takes to avoid ending up as freezer meat. By this time, there's no doubt the deer are wary and wise, but that doesn't mean they are completely unattainable.
Pennsylvania hunters looking for one last crack at a filled deer tag are offered a final opportunity with the statewide late-archery and flintlock season. Opening the day after Christmas, this "primitive-style" season challenges the most determined hunters through a host of unfavorable conditions ranging from cold, miserable weather to limited weaponry.
Though the majority of Keystone State deer hunters call it quits after the close of rifle season, a select group of hardheaded optimists can still be found lacing up their boots in quest of more whitetail adventure come late December. It certainly tests the skill and resolve of those who choose to participate, but the late season does have its luster.
It offers hunters a chance to feel a unique closeness to nature unlike any of the other deer seasons. With a naked canopy of treetops sighing and swaying overhead and a fresh, glistening blanket of white underfoot, the crisp, sub-freezing air strips away body heat and simultaneously invigorates the soul.
The solitude coupled with the stimulating exposure to winter's stark elements somehow makes one feel more alive- more in tune with the quarry he seeks. It also helps one better understand the struggles that ensue in nature while the heated oasis we call home otherwise shrouds us from the cold.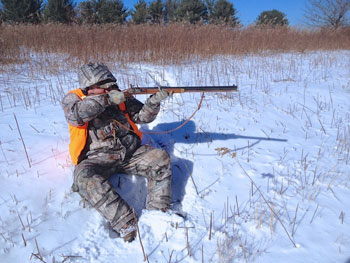 Hunting with a traditional black-powder muzzleloader or range-confining archery tackle during this time of year somewhat levels the playing field, as their limitations possess the ability to humble even the most experienced outdoorsman.
Of course, there are fewer hunters with which to contend, but also a proportionately reduced, more alert deer herd as well. Buck or doe, a late-season whitetail is a true trophy to be appreciated. It provides choice protein, while alleviating strain on the already diminishing natural food supplies necessary for other deer to flourish.
Late-season success doesn't always come easy, but there are a few things hunters can do to increase their chances when pursuing whitetails in the midst of winter.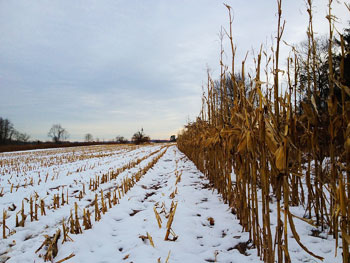 First and foremost, food is the number one priority for deer at this time. Locate a hot food source, and the deer are almost certain to be nearby. Standing crops are a goldmine, but rare to still exist, so instead look for fields that may have been recently harvested with waste crop left behind. Remnants of corn, beans, and even root crop fields will draw deer late in the afternoon, especially if a front is anticipated overnight.
Also, don't overlook native browse thickets. Many of these edible safe-havens provide optimal food and cover, affording deer concealment plus the luxury of not having to expend many calories while looking for their next meal. Grown up plots thick with berry-yielding varieties, immature maples or dogwoods are desirable, as are any that still possess hard mast on the forest floor.
Still-hunting can be a very effective strategy, especially with fresh snow on the ground. Hunters can learn a lot about a property by slowly working into the wind and assessing any visible tracks in the powder. Keeping a watchful eye out ahead can sometimes lead to a shot as the deer will occasionally lay tight just long enough for hunters to close the distance.
"Sunny-side" hemlock and laurel stands are great places to look in more mountainous terrain, as deer will often yard-up in considerable numbers within these types of areas. Working together with a few friends to move the deer in semi-organized fashion will definitely increase the action if the area is too large to cover alone or extended periods of chilly stand hunting is out of the question.
Dressing for the weather is absolutely imperative. Multiple layers, complete with waterproof outer garments are essential to a comfortable hunt. Start with a moisture wicking Under Armour-style base layer, followed by a fleece shirt, a wool sweater, and a breathable Dry-Plus or Gore-tex jacket and pants.
Battery heated garments from MyCoreControl.com can also work wonders with their advanced thermal technology to supply warmth without bulk. Wool socks, insulated boots, a fleece cap and a pair of light gloves supplemented with chemical hand-warmers will serve hunters well.
Hunting during the late-season is a unique and memorable experience. It is certainly not for everyone, but for those who still haven't harvested a deer or those simply looking to extend their season, it provides one last chance to get out there and enjoy a very special time of the year, while attempting to get things done the hard way.
By Tyler Frantz
Founder of Natural Pursuit Outdoors, Tyler Frantz is an avid sportsman and talented freelance writer from Lebanon County, PA. A teacher by trade, his passion for the outdoors is evident through the variety of work he regularly produces for multiple outdoor publications.
Pursuing Black Bears – Pennsylvania's ultimate trophy
One of the state's most difficult species to bag is also the most rewarding
By Tyler Frantz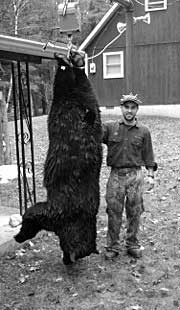 Remember the good old days of bear hunting? They shouldn't be too difficult to recall, because the golden age of pursuing Keystone state bruins is taking place at this very moment.
Pennsylvania is presently celebrated as having one of the most impressive black bear populations in the nation- estimated somewhere between 16,000 and 18,000 bears. Because of this, a large number of sportsmen venture forth in pursuit of the treasured big game animal each year.
Though many regard PA bruins as the state's ultimate trophy, only a small percentage of hunters actually enjoy the fortune of harvesting a bear in their lifetime. Bagging one is doable but rare, and successful hunters most often put in their time scouting, put on some miles walking or put on their lucky underwear and fall into a good heaping pile of it.
Despite the low odds of success, bear hunting has had some extremely notable years as of late. Annual harvest figures have eclipsed 3,000 bears for the past seven years, including an all-time record harvest of 4,350 bears in 2011. Last year's harvest of 3,366 bears ranks seventh best in state history.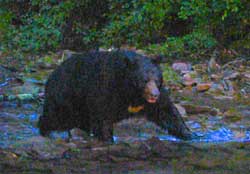 The largest 2014 bear, taken in Warren County, by James M. Hultberg, of Pittsfield, weighed an estimated 677 pounds. In fact, 41 of the state's bears weighed in at more than 500 pounds.
On top of this, bear hunting opportunities have recently been liberally expanded in comparison to the long history of the state's traditional three-day rifle season, which previously remained the standard for many years.
Now, a four-day rifle season is the norm for bear hunting, as is the preceding five-day statewide archery season. Of all the bears harvested last year, 170 were taken with archery tackle- a popular growing challenge among hunters. In addition, extended seasons in several WMUs provide even more opportunities for hunters to fill a tag.
Even with longer seasons, however, many more bears survive than are taken by hunters each year. As a result, their population continues to grow exponentially as they resourcefully expand to different areas of the state.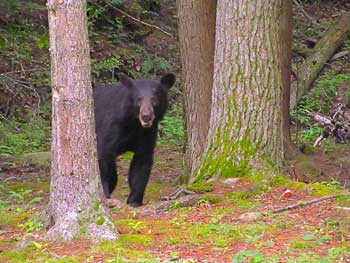 The North Central region still reigns supreme as PA's premier bear-hunting destination. Running harvest totals place Lycoming, Tioga, Clinton and Potter counties well above other locations in the state. Even the region's runner-up counties of McKean, Centre and Clearfield all bode extremely well for sportsmen.
The Northeast region ranks second best in the state, according harvest totals, with Pike, Wayne, and Luzerne counties leading the pack. Northwest's Warren, Southwest's Somerset, Southcentral's Huntington, and Southeast's Schuylkill are also county leaders for their respective regions.
Hunters looking to increase their odds of bagging a bear, regardless of region, should focus on available food sources and heavy cover, since that is where bruins will most likely be found bulking up in anticipation of winter hibernation.
In forested areas, acorns, beechnuts and late season berries are favored by the large omnivores. Find an abundance of these autumn staples in close proximity to dense laurel, hemlocks or clearcuts, and bears will not be far away. Hunt the benches where as much of a hillside can be observed as possible. Bears will travel these natural bands of cover and can move at any time of the day.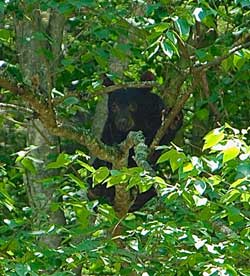 Where available, standing corn will also be a hot draw for bears since it provides such a rich dose of carbohydrates. Look for bear trails, which are generally a bit wider than deer trails, leading to and from these fields. Be ready for action first thing in the morning as bears wander to bed on sunny bluffs after a busy night of raiding the stalks.
Swamp country can also be an effective starting point for locating bear sign. Some of the state's largest bears in recent years have come from the Poconos where swamp thickets dominate. If fresh bear droppings can be located near a prime transition area with decent access, consider using a climbing treestand and stick things out. Bears bumped from other areas will predictably retreat to the comforting sanctuary of dense swamp where a silent hunter awaits.
Hunting with a gang is also a popular option. If one can team up with a hunting camp or other group of like-minded bear hunters working together in organized fashion to move bears through heavy cover, the chances of seeing a bear drastically improve. These groups often share the harvest, and the team approach can be a lot of fun. It's likely that this style of hunting has yielded more shots at bears than any other method.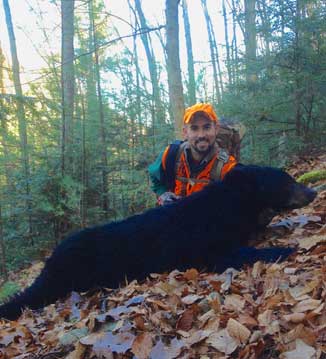 Remember, bears have an incredible sense of smell, so take every precaution to remain as scent free as possible. Wash garments in scent-neutralizing detergent, store them in a plastic tote and dress in the field. Try to hunt downwind of anticipated travel routes, and consider using cover scents to mask human odors. It's easy to fool a bear's eyes, but not his nose.
There's no doubt that the glory days of bear hunting are happening in the here and now. As a hunter fortunate enough to harvest three bruins in the past eight seasons, I know first hand just how good Pennsylvania bear hunting really can be. That's why I'll be out again this year trying for bear number four.
Best of luck to all Pennsylvania bear hunters out there pursuing the ultimate trophy this season. This is as good as it gets. Enjoy the challenge!
By Tyler Frantz
Founder of Natural Pursuit Outdoors, Tyler Frantz is an avid sportsman and talented freelance writer from Lebanon County, PA. A teacher by trade, his passion for the outdoors is evident through the variety of work he regularly produces for multiple outdoor publications.
Tried and true tips for dove season success
With one subtle flip of a calendar page, the 2014-15 hunting seasons are born. The long awaited September 1st migratory bird openers mark the official commencement of Pennsylvania's fall hunting opportunities. As camo-clad hunters flock to farm fields in pursuit of resident Canada geese and mourning doves, a long summer lull is rapidly exchanged for exciting wing-shooting action- a welcomed reprieve for many.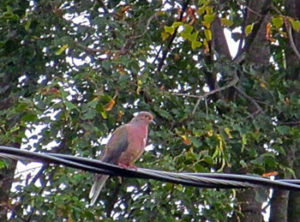 There's something rejuvenating about spending a misty morning in a goose blind or an evening with friends watching doves dart across the distant horizon of a September sunset sky. It reunites us with our passion for the outdoors and lifts our spirits after a dull, lingering off-season that seemingly lasted forever.
Doves in particular tend to provide plenty of shot opportunities- some of which can humble even the most skilled shooters afield. Their speed likens them to winged-torpedoes, and many a hunter can easily burn through a box of shells with scant bounty to show for it.
Despite its challenging nature, however, dove hunting can be an incredibly thrilling pursuit for those who know how to tip the odds in their favor. By being in the right position and knowing the natural tendencies of these speedy migrators, hunters can greatly increase their chances of acquiring a delicious spread of wild dove breasts for their next backyard barbecue.
As in the business world, "location is everything" when it comes to dove hunting. Acquiring the knowledge of where doves want to be, and thus, where hunters should be at the onset of their hunt, is as simple as doing a little homework. A casual evening drive through the country is all it takes to confirm a prospective dove hotspot, but it's also important to know the best areas to target along the way.
For doves, there are a number of key ingredients that make a particular location more desirable than others. Birds as they are, doves require a place to roost, a place to feed, and both grit and water to help aide digestion. Find the right combination of these ingredients, and you've got a consistent recipe for success.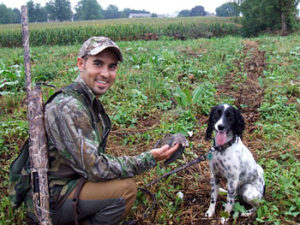 In early fall, doves are heavy feeders. They seem to prefer freshly cut grain fields above all else. Standing corn, soybeans, alfalfa, sorghum, sunflower and foxtail will all attract doves, but not nearly as much as if it were lying on the ground. Locating farms that are currently in the process of harvesting fields can be a goldmine, as alternately cut rows will provide feed for the birds, while standing crops will provide cover and concealment for hunters.
Dirt or gravel farm lanes provide an excellent source of grit for doves to break down the hard seeds that compose a large portion of their daily diet. Likewise, small streams or retention ponds also provide a prime water source for hydration, and farms with a combination of both should be given a good look during scouting trips.
Doves love to roost on power lines or along tree-lined fencerows, often giving preference to solitary cherries or black walnuts. Many times, they will make a temporary rest stop when traversing from one field to the next, pausing briefly to survey their surroundings or call in some friends.
It is not uncommon to see a half dozen or more doves congregated on the same roost tree or power line at any given hour of the evening. Pinpointing these locations is helpful because they serve as natural fly zones where birds will consistently gather, or in the least, pass by somewhat regularly. These hotspots should be considered prime setup sites.
After locating a property holding a fair number of birds, it is important to ask permission of the landowner in a polite and respectful manner. This is best done in person, and one should always adhere to any special guidelines or requests an owner may have for hunting the property.
Make sure to clarify property boundaries, and be aware of any buildings or livestock that could be obscured by standing crops or vegetation. Safety and respect of the land should always be the number one priority.
On the day of the hunt, pack a couple bottles of water, perhaps a few snacks, and more shells than you think you'll ever possibly need; even so, you may still run out. Low brass 7-shot game loads or even 8-shot target loads in 12- or 20-gauge will do the trick without breaking the bank for the number of spent shells in an outing.
Wearing camouflage or muted colors to match surroundings is suggested, as is having a comfortable cushion or five-gallon bucket for seating. Nestle into some cover with the sun at your back near roosting sites that overlook frequently visited grain fields. It can even be helpful to place a few inexpensive decoys within shooting range to help draw the attention of incoming birds.
Passing overhead shots can be extremely tricky and require plenty of lead-time. Try to match the bird's speed with the bead of the barrel and then pass it out by a few feet, squeezing the trigger while continuing to follow through. As the bird drops, be sure to keep a good mark on it and retrieve it as soon as possible to ensure a recovery. Then, cool down the meat quickly to preserve quality.
Dove hunting can be an extremely enjoyable pursuit- one that is enhanced by the company of a good dog or good friends. And if you're fortunate enough to bag a few birds, the breasts taste great marinated and wrapped with bacon, cheddar and jalapeño over a fiery grill. Here's to a successful start to the season!
Try for the PA trout slam
Striving to catch all four stocked varieties can add flavor to your season.
Grand slams are thrilling, but they don't just happen at the ballpark. Though often unofficial, the outdoor community has fully embraced the unique concept of attaining a grand slam for many different game species.
There are gobbler and whitetail slams for harvesting each of the nation's regional subspecies in a lifetime, as well as the PA big-game slam (black bear, antlered whitetail, fall turkey, and spring gobbler in the same season). Believe it or not, there is even a grand slam for wild sheep, if one really wants to get technical.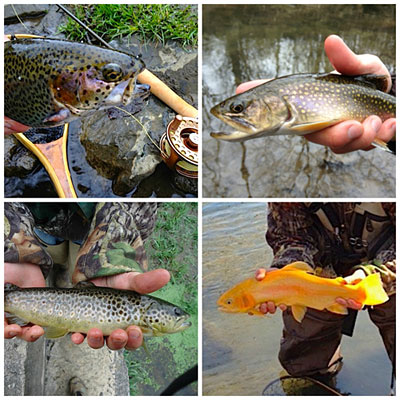 But when it comes to fishing, anglers have the opportunity to try for the trout slam. In Pennsylvania, the Fish and Boat Commission stocks rainbow, golden rainbow, brown, and brook trout in approved trout waters statewide. Attaining the slam is a personal endeavor that includes catching each of the four stocked trout varieties in the same season.
Those who prefer an ultra-light spinning combo might try a variety of enticing baits to prompt a bite from the various trout species, as each of the four seemingly have their own unique preferences on any given day.
While abundant rainbows may instantly hit a flashy Panther Martin inline spinner, a brownie holding tight beneath an undercut bank ledge might eyeball several passes of a drifted mealworm before snatching it.
A brook trout very well may be enticed from a deep logjam with a heavily weighted bit of night crawler, while a finicky golden rainbow could emerge from a brushy hideaway to chase a dab of Powerbait colored in its own likeness.
Completing the slam brings with it a special feeling of accomplishment, but for some, it can be even more fulfilling when attained while using a fly rod and self-tied flies. This takes the challenge and personalization of the experience to a whole new level.
Targeting the different varieties all comes down to doing one's research. By visiting the PFBC Trout Stocking Guide on the agency's website, anglers can find out which types of fish are stocked in various streams. From there, it takes a bit of wading, fishing skill and luck to piece together the rest of the puzzle.
It also doesn't hurt to have a little know-how about each of the four varieties one plans to pursue. Some streams are more apt to hold certain types of trout than others, and the way each type of fish responds to tackle can vary as well.
Overall success can be dependent upon multiple factors, such as time of day, stream conditions and feeding preferences. However, each variety does seem to have its own unique style.
Rainbows are often the easiest to catch, perhaps because they're the most heavily stocked fish in a majority of locales. Browns tend to be most active early in the morning or just before dark, so daylight can play a role in their willingness to feed. Brook trout typically hold in smaller, colder streams, and while goldens are easy to spot, it often takes some patience and luck to get them to bite.
If never accomplished before, anglers should consider taking on the task of trying for their first trout slam. Those who've already earned their stripes can challenge themselves to accomplish it in a different way than before, or try for it all in one week- or even the same day.
The ultimate goal really can be whatever one wants it to be. The most important thing is to simply enjoy the process, and remember to snap a few photos so fellow anglers will believe all the fish tales.
Go Crazy for Cottontails
Sometimes I wish I owned a beagle. Though I've never hunted over one, I've heard many stories of how the steady baying of a bunny chaser can ring out like sweet music to a small game hunter's ear. A well-trained dog will consistently pick up hot trails and predictably circle rabbits back towards its master for a close shot.
Like many hunters, though, I don't own a beagle. Therefore, if I want to hunt one of Pennsylvania's most sought after small game species, Sylvilagus floridanus, I must surrender to doing things the old fashioned way—the way I grew up hunting rabbits—by calling a few buddies together and putting a little boot leather on the ground.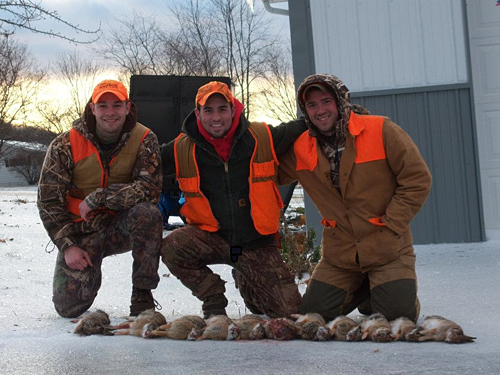 Rabbits have fairly liberal seasons and bag limits. They can be hunted over a period of three windows, which span the duration of late October through nearly the end of February, with a daily bag limit of four per hunter.
The lengthy season is a result of their amazing ability to reproduce over a short period of time. According to PA Game Commission, "each mature female bears an average of four litters per year," with each litter ranging "from two to nine young, with five the average."
This means that each year, there are plenty of rabbits for the taking, but the best time to hunt them, in my opinion, is during the latter part of the season when a fresh dusting of snow blankets the ground.
Rabbits can be a lot of fun to pursue, and hunters without a dog can still experience a great deal of success, granted they work together and know what to look for.
Cottontails love swampy, brushy terrain, and can be found wherever thick strips of cover are located near a quality food source. In wintertime, rabbits will feed on buds, twigs, bark, and wild raspberry canes. If there is a steady food supply and adequate security cover, rabbits won't have any reason to venture far away.
Keeping this in mind, prime target locations for bunnies will include old fencerows, grown up field edges, low-brush creek beds, and plots dense with young evergreens. Another terrific place to find rabbits, if accessible, is an old abandoned home site with dilapidated outbuildings. All of these areas offer sanctuary cover, as well as plenty of obscure burrows for cottontails to hole up in when threatened.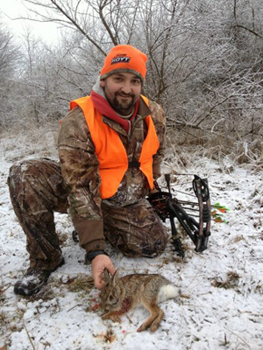 Looking back over many years of small game hunting, my favorite locations for consistently getting into cottontails have always featured sloped hillsides with new growth vegetation, or low-lying gullies, thick with briars, surrounding a water source. These areas include neglected pasturelands and recently timbered hillside strips no more than 50 yards wide.
What's really nice about these locations is that they are generally bordered by fields or old logging roads, which offer the perfect set-up for 3 or 4 guys to work together as a team in order to get things moving. They also provide the necessary visibility required for organized rabbit drives.
The best way for a small group of hunters to cover sloped hillsides for bunnies is for one or two guys to walk through the cover, while two others stand and flank. These roles should be alternated so that everyone gets a fair chance at each task. It's good hunting etiquette for each person to get a turn battling the briars.
The designated stander should be posted high at the end of the patch to catch any rabbits that run straight out ahead on the upper edge of the cover strip. Another hunter should flank the bottom field edge or logging road, being sure to stay well ahead of the drivers where he can see the hillside for rabbits running low.
Many times even the drivers will get a few shots at rabbits that hold tight while working through the brushy terrain. Though they can run pretty quickly, most rabbits will bound off a few paces and stop for a brief moment before taking off again. Drivers should stay ready and keep their eyes open for bunnies slipping ahead in the drive, which can offer a quick shot.
It is also important for drivers to thoroughly scour any areas a rabbit might be hiding out, because if they don't, rabbits will often let hunters walk right past them. This includes checking brush piles, clusters of thick briars, low-hanging evergreen boughs, and even old piles of rotting lumber or rusted farm equipment.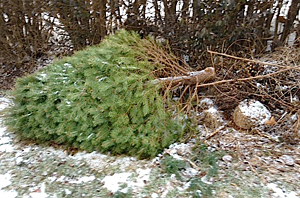 On our farm growing up, we would often pile old Christmas trees and yard trimmings together in scattered mounds as a means to improve cottontail habitat. During the season, all we'd have to do is give these piles a good kick, and more times than not, a rabbit would tear out from underneath the brushy heap.
As stated earlier, a few fresh inches of snow really helps the process. It makes seeing the rabbits easier, since their brown coats contrast well against the white landscape. And for some reason, it seems as though cottontails are always more apt to be out and about on sunny mornings after a recent snowfall.
If you're looking for something fun to do on a Saturday morning, consider calling a few friends and heading out to try for some excellent long-eared table fare. You don't need a dog to be successful, but if you really want to, you can always give a few howls while struggling through the sticker bushes!
Make this Season a Game-Changer with these 10 Bow Hunting Tips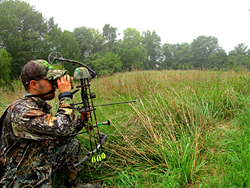 The laws of nature dictate that predators and prey share a unique relationship. Prey animals are genetically built with a host of adaptations, which allow them to elude their pursuers with the ultimate desire to thrive and multiply.
Predators, on the other hand, must utilize their cunning intelligence as a means of outsmarting their prey if they hope survive themselves. These carnivores must learn to exploit the tendencies of their quarry to gain the upper hand in the cycle of life.
This relationship is no different with humans and whitetails. Deer have an incredible sense of smell, quality eyesight and hearing, rapid foot speed, and are naturally coded to be cautious and elusive. Humans must simply learn to be smarter than the average deer, if they really want to bring home the backstraps.
Though hunter success is never a guarantee, there are several ways to help tip the odds in your favor this fall. Included are the top ten strategies for ending up on the winning side of the predator-prey playing field.
10. Do your homework
This hopefully begins long before the season opens, but can also still be done after opening day. It is important to scout quality-hunting areas so you know where the deer are. You can glass fields from a distance, spotlight at night (prior to 11pm with no weapon in your vehicle), and utilize trail cameras to pinpoint active locations.
A good rule of thumb is to find the food sources and you will find the deer. At this time of year, deer are hammering lush green agricultural crops, soft mast, and white oak acorns. As the season wears on, look for them to enter grain fields, and target less desirable hard mast such as red and black oaks, hickories, and even beechnuts.
Search for whitetail sign such as trails and fresh droppings as clear indicators of deer using the property, then set up between bedding and feeding areas to intercept a buck moving to or from the buffet line.
9. Location is everything
Some stand locations are definitely better than others. Deer love transition zones where one type of habitat changes to another such as field lines to wooded timber. Seek out these areas as well as natural funnels, pinchpoints and steep ridges that will force the deer to walk past your stand.
Be sure you can access your stand undetected, and always try to stay on the downwind side of where you feel the deer are most likely to travel.
8. Scent Control is key
A whitetail's nose is its best line of defense. Do all that you can to contain your human odor. Wash your clothing in a scent-free detergent and store them in an airtight container. Prior to your hunt, take a shower with scent eliminating body wash, then dress in the field. Spray gear with scent-neutralizing products to cut down on trace odors, and wear rubber boots. Again, have multiple stands and only hunt those with the wind in your favor. It makes a difference.
7. Watch the weather
Deer movement increases prior to high-pressure days, immediately after heavy rains or winds die down, during cold fronts, and throughout a new moon phase. Though incredible bucks have been taken in downpours, heavy winds, scorching hot days, and at the peak of a full moon, you will have a higher percentage of success hunting the other times if you have limited days to hunt. Otherwise, get out as much as possible, regardless of weather.
6. Keep a journal
Though a tedious undertaking, a field journal can greatly increase your odds of patterning whitetails. Each time you hunt; indicate the date, weather, temperature, time, and locations of deer that you see. Note special observations of deer movement, what worked, and what didn't.
Over time, you will notice that sometimes history repeats itself, and your journal can help you decide which stand to hunt at different key stages throughout the season from year to year.
5. Continue to practice
It is easy to spend all your free time hunting and never practicing. Too many hunters don't set aside time each week to shoot their bows. It is important to stay sharp and check your gear for minor undetected flaws that might've occurred in the field. Since we cannot currently hunt on Sundays in Pennsylvania, this is a great day to brush up on your shooting form.
4. Sit tight
Have you ever heard the saying, "You need to be present to win?" The same goes with hunting. If you find a really good spot, be patient and sit tight as long as you can, especially as the rut nears. Though dawn and dusk are typically the most active times for deer movement, bucks will soon be seeking out does, and prime transition areas can produce results at any time.
That doesn't mean you should beat one spot to death, however. Vary your stand locations, but once you are in place, try to avoid crawling down for lunch and a mid-day nap. A few snacks and some extra discipline can result in a blood-soaked arrow.
3. Sound like a deer
As you see bucks becoming more aggressive, it is often helpful to utilize grunt calls and estrous doe bleats to capture attention and draw them closer to bow range. You can easily overdo it here, so be judicious in your use of these calls. Try to use the deer's body language and reaction to your calling as a signal for what to do next.
2. Use scents to your advantage
The use of liquid deer scents is twofold. Bottled deer urine can serve as both an attractant and a cover scent. Early in the season, use regular doe urine as a curiosity scent that also masks your own human odor.
In the seeking stages of pre-rut, try a doe in estrous blend, or experiment in making a mock scrape doctored with territorial buck urine. I have had tremendous success with both products in years past, as bucks often come in for a closer look.
1. Safety first and foremost
This strategy is reserved for the top spot because if an unfortunate accident ever occurs in the field, all other strategies automatically become null and void. Therefore, safety is the most important thing to keep in mind on every outing.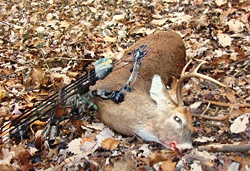 When in a tree stand, ALWAYS use an approved safety harness or fall restraint device. It is not worth compromising your life or physical well-being for the simple inconvenience of strapping yourself into a tree.
Also, always let someone know where you are planning to hunt. Leave a note, send a text, or verbally communicate this to someone before you venture out. When hunting unfamiliar property, use a GPS to mark your vehicle's location, and consider stowing a small survival/first-aid kit in your hunting pack.
Always clearly identify your target, taking note of what might be in the distance behind it, and stay current with hunter orange requirements during concurrent small game and muzzleloader seasons. It can save your life.
As stated before, nothing is an automatic slam-dunk when it comes to the relationship between predator and prey. However, if hunters can use their human intelligence to their advantage, and employ these ten aforementioned strategies for success, they will greatly increase their chances of outsmarting the instincts of a wily old whitetail this season.
Humans are the ultimate predator. Can you seal the deal?