Cindy Ross
Cindy Ross lives with her family along the Appalachian Trail in a log home she and her husband built from scratch. She is the author of six books on hiking and adventuring. www.cindyrosstraveler.com
Elk Country Visitor Center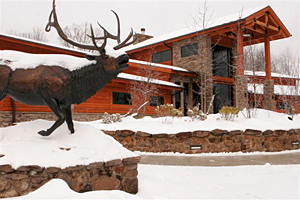 To think that one of the most awe-inspiring and majestic creatures in the animal kingdom –elk—thrive right in the East, in Pennsylvania, is amazing. With a statewide herd numbering in the vicinity of 800-1,000, the sleepy village of Benezette in Elk County is the center of most of the activity. Folks have been coming to view the elk for decades but now your experience can be intensified with the creation of the 12 million-dollar Elk Country Visitor Center that opened September 2010. This LEED certified (eco-friendly) massive stone and timber structure, can acquaint you with this extraordinary native animal and help you create an encounter that all visitors dream of.
First stop inside is the Discovery Room, an important part of the education program that caters to scout, church, and school groups. Children can handle the monster antlers, learn to measure their mass by incorporating math skills, study their sophisticated vocalization system, practice writing poetry using elk vocabulary, piece together puzzles incorporating the elk's four separate stomach sections, and, just like the elk biologists, count animals from aerial photos taken in helicopters. All activities are in line with Pennsylvania Education Standards and the center is nearly solidly booked months in advance, this program is so popular.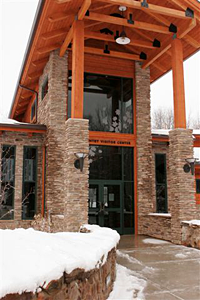 You'll trace the history of elk in these "Pennsylvania Wilds" – how they disappeared but were successfully re-introduced with Rocky Mountain elk from Yellowstone National Park.
The Great Room with floor to ceiling windows frequently have elk feeding right on the other side of the glass, for the surrounding grounds are planted in tasty winter wheat—a favorite with elk.
Three short trails radiate out from the center through three different environments—a trail through a hollow, a meadow trail, and a vista trail that end at viewing blinds. Remote-control cameras are positioned at the ends so visitors inside the center can see what is happening from the comfort of the easy chairs cozily placed around the massive stone fireplace. This allows wheelchair bound visitors able to have an intimate elk experience as well.
Visitors are encouraged to relax around the fire and "loiter" as much time as they want, learning, exploring, and just conversing with the knowledgeable staff and impressive number of volunteers (40+) who help at the center.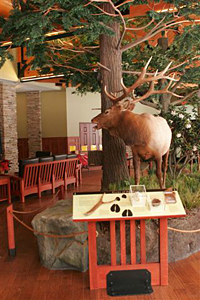 The 4-D Theatre is an experience all on its own as the seat beneath you actually moves with the rumbling lightning, your hair is tousled from blowing wind, "smoke" is emitted from the "campfire," and actual wet flakes of "snow" drop from the ceiling.
The Gift Shop is even tastefully done with fine cherry wood cabinetry, crafted by Pennsylvania state correctional residents. Behind the glass are images of beautifully painted elk on dried gourds as well as elk carvings. Every item is made in the U.S. including an impressive 75% made locally by 47 artists and product makers. There are laser carved wooden toilet seats, depicting elk and wild turkey, for sale. Maple syrup, jams and relishes, as well as local elk meat products, such as jerky and summer sausage are featured. The later are products from Elk County Elk Farm in nearby Ridgway, PA. Bearclaw confectioneries using cashews for claws are a sweet treat.
The Keystone Elk Visitor Center is a destination in itself but while you are here, you can enhance your visit by booking a tour with an elk tour company like Hicks Run Outfitters. Spring is a great time to see the animals up close for they often hang around the roads as the valleys green up first. Your guide will scout for elk ahead of time and tailor your experience to your individual needs.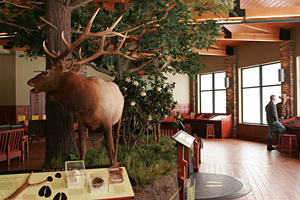 For more information:
www.ElkCountryVisitorCenter.com
(814) 787-5167
No Child Left Inside
Saving our kids from Nature Deficient Disorder
"Now I know the secret of making the best persons. It is to grow in the open air and to eat and sleep with the earth." Walt Whitman
When my husband was growing up in the suburbs, he and his friends habitually paid visits to the latest construction site with their wagon. They would load up with long, ungainly pieces of lumber and pull it for many blocks to the edge of the development, where their backyards ended and the woods began. There they built a fort. It taught them many things, about problem solving, working together, thinking creatively. But more importantly, it got them outdoors and it gave them a sense of wonder.
We did these kinds of things years ago without any thought—captured fireflies in a jar, turned over rocks in a creek, built dams, even conducted experiments like burning ants with a magnifying glass on the sidewalk. If we didn't live "out" in the wilds, we managed to find a corner, an edge, a space left open, to explore and discover. We gravitated to them.
Kids aren't outside anymore. Drive nearly anywhere in the country and you'll find the yards are vacant of playing children. There are many culprits: television, computers, video games, too much structured, organized time, a fear of the bogeyman just waiting to snatch our children away, and lack of green space. The radius around the home where children were allowed to roam on their own land has shrunk to a ninth of what it had been in 1970.
There is startling new evidence that spending time in nature is as important to children as good nutrition and adequate sleep. "To take nature and natural play away from children may be tantamount to withholding oxygen," says author, Richard Louver, in his groundbreaking book, Last Child in the Woods—Saving Our Children From Nature Deficient Disorder. In it, he explains that in the course of a few decades, children's physical contact with nature has faded at an alarming rate. New research is connecting the rapid increase in childhood depression and attention deficit disorders to this lack, for the rate at which doctors prescribe antidepressants to children has doubled in the last five years.
In nature, children make full use of their senses, are inspired to be creative, learn visualization and concentration, reduce their stress, develop a deep sense of spirit and a sense of play, become more fit, and, evolve into better stewards of the land.
And, with the planet in the mess that it is today, we can't expect to grow environmentally conscious kids when they have neither attached to the land nor made an intimate, personal connection with the natural world. We need to nurture magic in our children's lives and detach them from electronics long enough to have their imaginations kick in. New findings from The Nielsen Company show kids spend half as much time outside as children did 20 years ago and average 44.5 hours a week in front of some type of electronic entertainment.
Time spent in the natural world will give your child so much more than any school book, computer program, television show (even the Nature Channel), or organized sports to better equip them to thrive in the world, let alone be self-assured, happy, and peaceful. Even very small doses of nature reap tremendous benefits.
Richard Louve said, "When we deny children nature, we deny them beauty."
We need to teach our children to "see into the beating heart of the earth." We need to instill in them a personal passion. Richard Louve believes this is the long distance fuel for the struggle to save what is left of the natural environment. For "Passion is lifted from the earth itself by the muddy hands of the young; it travels along grass-stained sleeves to the heart."
SIDEBAR:
What to do? We, as adults must get outside with them. Relearn how to find wonder in the natural world. Take them fishing, hunting, wildlife watching, out for a hike, camp out, watch a meteorite shower, build a campfire, skip rocks. Buy some identification books and learn the trees, press flowers, pull out a microscope and look at a drop of pond water. Turn over rocks in the stream and look for critters, gather walnuts and bake something, follow animal tracks in the snow, plant a garden, feed the birds. Contact your local conservation agency and sign up for camps so the kids can learn outdoors with their peers. Investigate your local environmental education center and see what programs are available. Join the scouts or start your own troop and focus on the outdoors.
Check out:
Sharing Nature With Children (20th Anniversary Edition, Revised and Expanded) by Joseph Bharat Cornell (Paperback – Jan 1998)