Richard Tate
Richard Tate can be found regularly hanging around trout streams, or prowling around the woods chasing turkeys. His work has appeared in numerous outdoor publications. He writes a weekly column for the Morrisons Cove Herald and he is the author of the book The Trout at the Walnut Tree.
Lucky Hat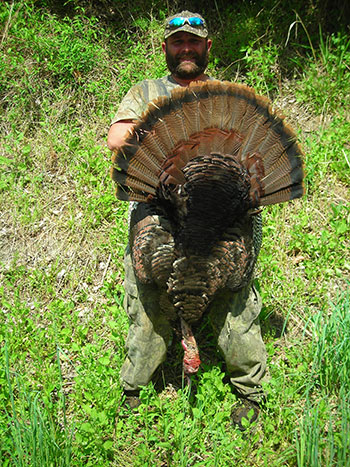 I have worked hard over the past 50 years to become a consistently successful wild turkey hunter. I have put in a lot of time learning to call, and I have spent a lot of time in the woods scouting for and then hunting for the big birds. I thought I was becoming a pretty good turkey hunter, especially after having killed a number of nice gobblers for several springs in a row. But, about a half-dozen years ago, a couple of days after having brought a nice gobbler in to show off to my wife and son one morning, I discovered I had lost my favorite turkey-hunting hat.
No matter, I can buy another hat, I thought, though I did make a couple trips out to the woodlot where I believed I had lost it. However, I could not find the hat.
Thus began a period of inconsistent luck in the turkey woods. Though I managed to down a couple of spring and fall turkeys during those years, I found myself failing to kill turkeys about as often as I managed to tag them. In fact, I failed to kill gobblers during both the 2013 and 2014 spring seasons and failed to see even one turkey during the fall of 2014. It appeared that my luck had run out.
On the first morning of the 2015 gobbler season, my son, Bob, and I were set up in a spot where I had heard a number of gobblers prior to the season. Though we called one in close, the tom never appeared where we could get a shot. When we were done for the morning, I noticed that Bob was wearing what looked like the old hunting hat I thought I'd lost.
"Where did you get that hat?" I asked him.
"I don't know. I've had it for a while," he replied.
"That looks like my old hat.  That was my lucky turkey-hunting hat," I told him.
"Here, I'll trade you. It's old and beat up, and the one you're wearing isn't so bad," he smiled.
He was right. The hat was pretty well beat up: the brim was pulling loose from the headpiece of the hat, and the adjustment strap was nearly unattached. But, by the following Monday, I'd had Donna, my wife, sew the brim back on, and I'd given the hat a good washing in UV-killer detergent, though neither of us could figure out what to do about the adjustment strap.
Monday morning found me back near the spot where Bob and I had been set up on Saturday. Again, I heard a couple of gobblers holler from their roosts, but they went silent after flying down. I moseyed around the woods, stopping to call infrequently during the next several hours and thought I heard a gobbler down over the bank of a steep hollow. But, if I had, he had gobbled only once. I thought it would be a good place to set up the next morning; and when one of my friends who doesn't hunt spring turkeys was searching for morels in that area that afternoon told me he'd spotted a couple of gobblers, I knew for certain I'd set up there on Tuesday.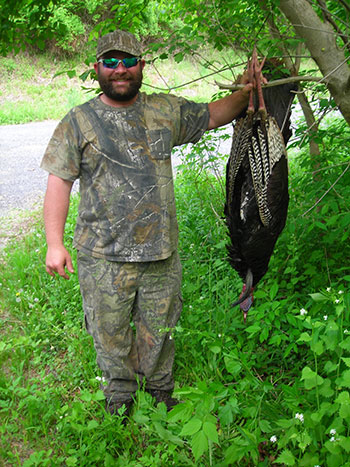 Things began badly. I heard a gobbler start up well before 6:00. He gobbled steadily for nearly an hour. However, he was on the other side of the huge hollow; and at 65, I figured I couldn't get to him over the steep ground. I believed it was unlikely that he'd come that far to me either. Our calling contest was interrupted at 6:30 by a gobble on the bank where I was set up. I replied to this new gobbler, but he didn't answer my calls. I sent out yelps and clucks about every five minutes for the next half hour, and the new gobbler finally gobbled back at me. His gobble was much closer than the previous one, and I swiveled around to face where I imagined he might appear. Only moments later, he and two young gobblers eased up over the edge of the hollow, fewer than 100 yards away. The three turkeys slowly headed my way. When they vanished in a little ditch about 70 yards from me, I clucked once on a little diaphragm caller Bob had bought for me and then shut up. Shortly afterwards, the gobblers reappeared.
They continued coming my way, a little faster now, and I centered the bead of my 12-gauge on the gobbler's vitals and clicked off the safety. When he halted on a log about 15 yards away, I pulled the trigger, and the nice tom crashed to the leaves. He didn't even flop.
When I related the story to Bob on the phone that afternoon, I told him, "See, I told you that was my lucky hat. I haven't been getting turkeys regularly because I didn't have the hat."
Since I'm retired and since Bob has to work nearly every weekday, I scouted a couple times for him during the week. On Saturday, we set up along a ravine where I'd heard multiple gobblers the previous day. They gobbled well from the roost, but one walked off with a couple of hens. I watched another, a huge tom, sneak in behind Bob where he couldn't see it before it wandered off. At the end of the morning, Bob told me he wanted the lucky hat. I reluctantly gave it to him, but I told him I wanted him to return it after the season.
It didn't appear that the hat was going to be so lucky. On Saturday afternoon, Bob backed his pick-up truck into a pole, and he was going to have to take Monday off work to visit a body shop. He planned to hunt before getting the estimate on the truck. When he told me he was going back where we had been on Saturday, I decided not to go. "I really think that's a one-man spot," I told him. "I think you'll be better off if I don't tag along."
I am an enthusiastic fly-fisherman, and the conditions last May were spectacular for fly-fishing for trout. I fished one of my favorite early-season spots that Monday morning but with only mediocre results. By 9:30, I had arrived at my truck to take off my vest and hip boots when I noticed another truck easing past. When the big, red pick-up backed up, I knew it was Bob; and when he got out of the truck, he was grinning from ear to ear. "Well, you can't be smiling about your back fender and bumper," I said when I looked at the nastily damaged truck.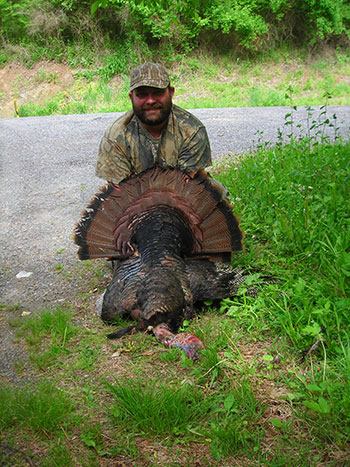 When he lifted the turkey from the truck's bed, I saw that it was a dandy. "I've already showed it to Mom and weighed him. He's not as big as a couple other birds I've shot, but he weighs 20 pounds. His beard isn't as big as some others I have, but it's 9 ½ inches. The big deal is that he's got spurs over 1 1/8" long. You can hang him from a limb," and to illustrate, Bob hung the big tom from the limb of a small tree.
"Wow, he's some turkey!" I said as I admired the gobbler's feathers that shone in the bright morning sunlight. "What's the story?"
"I set up where we did Saturday, and the gobbler did the same thing as he did Saturday when he left the roost. He walked up the hill away from me. But, since I didn't hear any hens, I thought he might be alone and that I could get ahead of him, set up, and call him in. It didn't work on my first set up: He just kept walking. But, when I set up ahead of him again in a nice opening in the woods, he was right there. When he was only about 30 yards away, he strutted, turned in a circle, flapped his wings, and then dropped his strut. When he took a step to walk away, I shot, and he went right down. Boy, Dad, he might not be the biggest gobbler I've ever shot; but with these spurs, I think he's my best one."
"You know why you lucked out, don't you? It's the lucky hat. When you get home, make sure you wash it. Then you can return it to me."
"All right," he smiled. "I agree that it's a lucky hat. I'll clean it up and get it back to you quickly."
Bob was as good as his word. He returned the hat to me in better condition than he'd gotten it, including having a new adjustment strap sewed on. I now have no excuse for failing to find and tag turkeys, since I am once again in possession of my lucky hat.
By Richard Tate