Dan Haring
Dan Haring, a member of the Pennsylvania Outdoor Writers Association and an accomplished bass angler, lives with his family in the Lehigh Valley.
Bass Fishing in Eastern Pennsylvania
People who fish for bass in eastern Pennsylvania are a fortunate bunch indeed. The bass fisheries in this area are very diverse and offer the opportunity to catch bass with a vast array of techniques. You say you want to fish top waters? Plenty of opportunity here. Jigs, crankbaits? Yeah, we've got that. Soft plastics, swimbaits, spoons and spinnerbaits? Yep we've got that too. Do you want to catch lots of bass or are you after a lunker? No matter your fishing style or preference, there's an eastern Pennsylvania fishery to accommodate your needs. Let's explore some of the region's bass fisheries and how to approach them. Please check the Summary Book of PA Fishing Regulations & Laws to be aware of and abide by specific regulations for each body of water outlined below. You can access it at the following web address: fishandboat.com/regs_fish.htm.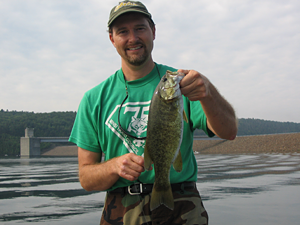 Mauch Chunk Lake in Carbon County is located just outside the town of Jim Thorpe. This is an excellent "numbers" lake for largemouth bass and as such is a great place to take a kid to learn bass fishing. You won't find many fish larger than 14 inches here but you can have action all day. The water here is usually quite clear which makes it a good lake for topwaters, especially in the morning and evening hours. Try a popper like a Rebel Pop-R during these hours. From the dam to mid lake, look for rock piles and fish cribs in 8 to 12 feet of water and fish them with small jigs or stick worms like a senko. The upper lake is shallow with stumps and lots of weeds in the summer. Try throwing a lipless crankbait here like a Bill Lewis Rattletrap, especially on windy days.
Nockamixon Lake is located in Bucks County just east of Quakertown and it's an excellent lake for trophy fishing for both largemouth and smallmouth bass. The largemouths outnumber the smallies here by 10 to 1 or more but the smallmouths here grow huge fast. This is also a great lake to learn how to bass fish because it offers such diverse structure and cover. You can fish roadbeds, bluff walls, long extended points, brushpiles, lilies and milfoil all in one lake. Some of the most successful fisherman in Pennsylvania learned how to bass fish here. Suspending jerkbaits rule here in early spring and late fall when the water temperature is below 50 degrees. Topwater fishing can be good at Nockamixon, especially at night and around heavy cover. Jigs are a mainstay throughout the year followed by soft plastics and crankbaits. It always possible to catch a bonus striped bass or striped bass hybrid while you are here and both grow very large at this lake.
Beltzville Lake in Carbon County just east of Lehighton seems to have two personalities. At times the fishing can be easy and other times you would swear the lake is the Dead Sea. Put the odds in your favor by fishing this lake during dark, cloudy, or even rainy days. Wind also helps the bite on this lake as it makes it difficult for the fish to get a clear view of your lure. In the past, smallmouths outnumbered largemouths here by 10 to 1. However in recent years, the largemouths have really come on strong. Beltzville is one of the best top water lakes in Pennsylvania. Poppers like the Rebel Pop-R and walk-the-dog-type baits like the Lucky Craft Sammy and Gunfish will get the job done. Jerkbaits, spoons and finesse soft plastics like small tubes and spiders also work well here.
Blue Marsh Lake in Berks County near the town of Reading has an equal number of both largemouth and smallmouth bass. The lake is drawn down each fall and as a result you will not find submerged weed growth here. This actually works to your advantage though as cover is limited on this lake. Fish the many laydown trees both in the main lake and feeder creek arms. Bluff banks are also a good option at this lake. Tubes, jigs and other soft plastics work well here. Try green pumpkin with chartreuse highlights. Topwaters work during summer mornings and crankbaits and jerkbaits are good in early spring and again in the fall.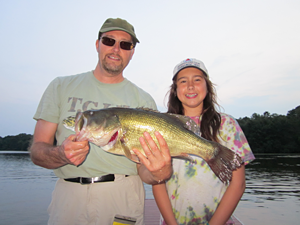 Lake Wallenpaupack on the border of Pike and Wayne County is by far the largest lake on the list. At 5700 acres, there is plenty of water to fish here. Smallmouths rule but there is a decent largemouth population with some exceptionally large specimens. The Pack has a good topwater bite at times and is a good lake to employ lots of bass techniques. Dock fishing is big on this lake because of the numerous docks along the shoreline. Try skipping senkos, small jigs and other soft plastics into the shady side of dock pilings. Wallenpaupack is also a good spoon fishing lake in the cold-water months and even in summer. This lake, as well as Beltzville, requires special attention during the weekends of the summer months because of the heavy boat traffic on the lake. At times, fishing becomes difficult due to the sheer number of pleasure boaters. Eastern Pennsylvania offers a wide variety of fishing opportunities for the bass enthusiast, so get out there and give it a try. Remember to be a responsible steward of the environment and may God bless your fishing endeavors.